IT INTERNSHIP PROGRAM
Webakruti IT Internship in Nagpur, this program is a good start for students who are looking for their career to start in the field of web development and software development. In this internship program we helps the student to deliver themselves in the industry of Web development, E-commerce development and many relevant skills. Here trainers are working with more than 5+ years of Software Development experts, which help them a lot in Technical knowledge boosting. IT Internship Nagpur program is a full-time training program for trainees where they work on live projects running under Webakruti.
Webakruti is announcing IT internship, winter internship, Full semester internship and anytime virtual internship. Programs for Engineering Students (BE), MCA students, BCA students, BTech Students, This internship training programs for computer science, Information Technology and Other streams of engineering.
In this IT internship Nagpur training program we will cover all technologies related to website development and software development, Technologies are HTML5, CSS3, JavaScript, JQuery, AJAX, PHP, MySQL, WordPress and related frameworks.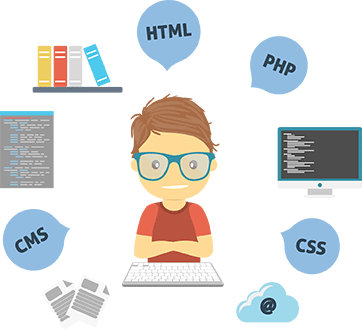 WHAT YOU ARE GOING TO LEARN?
In this IT Internship program we are going to cover the technologies which are required in Web designing and Web development. We are providing latest and updated courses in it which helps student in their career.
HTML5
HTML is a markup language. Which is use to develop web-pages using html tags. It provides structure of a website so that web browsers know what to show.
CSS3
Cascading Style Sheets (CSS) is a style sheet language used for describing the look and formatting of a document written in HTML.
Bootstrap
Bootstrap is a UI (user interface) framework for building with HTML/CSS/JavaScript. It makes front-end web development faster and easier.
Javascript
JavaScript is a scripting language which is used for JavaScript are image manipulation, form validation, and dynamic changes of content.
jQuery
jQuery is a small and feature-rich JavaScript library. It makes things like HTML document traversal and manipulation, event handling, animation, and Ajax much simpler with an easy-to-use API.
PHP
PHP is a server-side scripting language designed primarily for web development but also used as a general-purpose programming language.
MySQL
MySQL is an open source relational database management system (RDBMS) based on Structured Query Language (SQL).
WordPress
WordPress is a CMS (content management system) built on PHP. You can use to create a beautiful website, blog or app. Currently, about 20% of all websites run on this framework.
Ajax
Ajax is a client-side script that communicates to and from a server/database without the need for a postback or a complete page refresh.
Photoshop
Photoshop is the predominant photo editing and manipulation software on the market. Its uses range from full featured editing of large batches of photos to creating intricate digital paintings and drawings that mimic those done by hand.
Advance Frameworks and CMS
In advance internship program, you will learn the advance frameworks like CakePHP and CMS (content mangement systems) like Wordpress. These technologies are widely used when we go for web-designing and web-development.
Job Assistance
After student's successful completion of internship program, we are providing them job assistance according to their knowledge and performance. We have placed our previous students in different companies including Webakruti.
KNOW MORE ABOUT WEBAKRUTI
Webakruti is a leading website development and software development company in Nagpur we have Nagpur's best web developers and software Engineers having 5+ Years experienced in Reputed IT company, We deliver 100+ Projects all over India and in Nagpur and 3000+ Engineers trained in IT Internship Nagpur. After Completion of a IT internship Nagpur program in webakruti our students placed in reputed IT companies and in Reputed Organizations in all over India and in Nagpur.
"Join Today Nagpur Leading web development and Software Development Company and
Boost your career in IT Company."
IT Internship in Web Development
In IT Internship Program, we will train you in all advance technologies which all are related to web development As an intern you have great opportunity to boost your technical Knowledge into in web development it includes frontend coding and backend coding.
Training on Advance Tools: Advance text editors like Sub lime Text Editor, Servers like XAMPP, WAMPP.
IT Internship in Software Development
As a part of Leading Software Development Company Webakruti, you will get great opportunity to jumpstart your carrier in IT Internship Nagpur by applying your knowledge to real life application like Topics of Software Development
Software Developement Life Cycle
Web application software
Software Development
Server Handling
Technical Documentation
Software Coding
Software Engineering
Prototype Development
All Type of Software Models
Internship Certificates
All the interns who successfully complete their internship in webakruti company will provide INTERNSHIP CERTIFICATE.
Apply for IT Internship Nagpur
Eligibility : M.Tech | B.Tech | B.E | BCA | MCA and All Engineering Stream Students. Duration: 3 Months – 6 Months
BENEFITS OF INTERNSHIP PROGRAM
Internship Program at Webakruti is a power packed technical development program which boosts the logics in student make them fearless to work with the web development or software development industry. Joining Internship make a drastic change in students technical profiles, this already proved in previously attended students. Here in an internship, students not only learn about development skills but also learn about the corporate skill, team leading skills those are normally needed in IT corporate industry.
EXPERTS ASSISTANCE
Trainees works under expert web developers and Software Engineers have 5+ Year experience IT sector, Webakruti engineers delivers 100+ Successful Projects and Trained 3000+ Engineers, personal attention to all IT internship trainees.
LIVE PROJECT
All IT Internship Trainees will get chance to work on Live project Daily, after Training hours Webakruti Engineers will assign you Live project, It will help you to develop more skill on the Live project you will get more knowledge.
INDUSTRIAL TRAINING
Webakruti provides Industrial Training to all interns, Webakruti tied with reputed IT Company in Nagpur, It will help to all interns to interact with IT company culture, working experience, Interaction HR and many more interesting things.
GETING READY FOR JOB
After the successful completion of IT Internship Program, you can apply in IT Company Working on these Technologies, Webakruti will train you how to face interview and tips, it will help fresher's to get their first job in IT Company.