WHY WEBGURUKUL EDUCATION?
Webgurukul covers complete bunch of courses which is one step closer to the door for an individual to become a part of IT corporate industry. Webgurukul provides a complete package of course for IT industry, will creates student or trainers to become technically sound. Webgurukul is now recommended by different IT industries from Central India. We are providing different technical platform to student to develop them self, by this they become Job ready.
Learn from company experts
Learn from project developers and get train at corporate level.
Practical based approach
Practice while learning. Training approach is totally practical.
Special Problem solving sessions
Separate team and time for problem to solve your problems.
COURSES WE PROVIDE
Webgurukul provide courses to nourish your logical and designing mind. Choose course according to you. At one place you can find lots of courses to groom up your talent. Start from naïve and become expert in selected course.
Choose course from our vast range of courses to discover your website development potential
TECHNICAL DEVELOPMENT CAMP
Bunch of latest courses with specific technology expert. No previous programming knowledge needed. Start from scratch with company experts.
WEBGURUKUL WORKSHOP (YAGYA)
A class which is dedicatedly for learning new things. Where you can invests your time to learn much more things in a small duration.
WEBGURUKUL REGULAR
Start from scratch with company experts. A regular batch is good to start at any time.
TECHNICAL TRAINING (INTERNSHIP)
Start your career with Webgurukul, work with experts and get ready for corporate. Work with live company projects under guidance of company experts.
ASSESSMENT AND TECHNICAL SKILLS
Know yourself better with our experts. They are going to help you to know yourself by guiding and assessing your work daily.
ONLINE PROGRAMS
Learn anywhere, anytime with experts. If you have missed lectures cover up with online programs.
UPCOMING EVENTS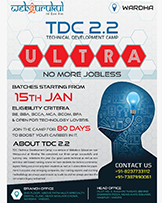 TECHNICAL DEVELOPMENT CAMP ULTRA 2.2
TDC 2.2 ULTRA Join the camp for 80 days.
Eligibility : B.E,BBA,BCCA,MCA,BCOM,BFA & For all Technology Lovers
Starting From
15th JAN 2017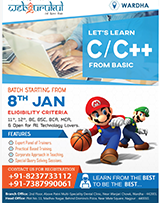 C & C++ CAMP
Learn C & C++ from base to MNC Interview in a very short time from corporate experts.
Eligibility : 11th, 12th, B.E, BBA, BCCA, MCA, BCOM, BFA & For all Technology Lovers
Starting From
8th JAN 2017
WHAT STUDENTS SAYS ABOUT US
Coming from a design background I was apprehensive to learn a programming language. When I got in touch with Webakruti, with my requirements, they gave me right guidance in taking it forward. My tutor Ram created customized modules for html/css and taught the programming subject in a simplified style. Ram's practical approach, hands on subject expertise and professionalism made me grasp the subject easily. It helped me to look at coding from design perspective. The young and enthusiastic webakruti team coordinates and communicates well for the smooth functioning of the course. Webakruti has provided me a platform to explore new opportunities.

Hemal Sheth
Information Designer @ InfoCepts
After completing my engineering I wanted to make my career in web development. In order to gain good knowledge in this domain I started to look for best coaching options out there in market and I came across Webakruti. The kind of course structure Webakruti offers is in many ways different from other classes, here theory goes hand in hand with practical and lot of learning happens through Live Projects with personal attention of coaching staff on each and every student. The coaching staff is well experienced in there domain and help students in every phase of the course and at the same time provides job assistance, which is the best thing. I would like to take this opportunity to thank Webakruti for making me job ready web developer.

Aniket Avhad
Jr.Software Engineer @ Torana Inc.
I always used to think that college knowledge is sufficient for getting job & for getting good opportunities in life. But, after joining Webakruti my mentality get changed fully. Webakruti just become my second home. Here I actually came to know that, what happened in company?, which knowledge is required to get the job?, How to make your unique Identity? The whole staff is very frank and friendly. We can ask any difficulties to them.We have learned difficult programming languages in the simplest way of learning. I am able to prepare my own identity, just because of Webakruti .So, I really hearty thankful of Webakruti & I feel proud that I am a Webakrutian.

Ankita Agrawal
Student @ Webakruti TDC 1.1
They are a first-rate and high level design n developing IT firm that we will be working with closely in a year to come. Working under their guidance was smooth and reliable.What i appreciate most about working with webakruti is their ability to cut through the predictable politics of a project and keeps everyone happy.

Shubham Nandedkar
Placed @ Amazon - Alumni TDC 1.1
Webakruti…… This institute has been nothing less than what I had hoped for. The growth I have seen in myself due to Webakruti is invaluable. It has taught me things far beyond bookish knowledge and helped me broaden my horizons.Quality education, supportive team and amazing freinds, what one expects from one institute. It helped me to explore the real me, providing me opportunity to interact and learn from team and friends. The classes are very interactive and tutors ensure that every student understands what is being taught before proceeding. Courses are challenging, yet very informative, so that we don't feel lost when entering the competitive world. All in all Webakruti provides every student exactly what they need for life. Proud to be a Webakrutian!!!

Neha Khedkar
Placed @ Balarka - Alumni TDC 1.1
My experience in webakruti was awesome. Webakruti offers many different form of classes in which they provide theory with practical use. They provide extra activities like CRT, GD, communication skill development and many things.Well and enthusiastic webakruti team and very helpful in nature. And also I want tell about team of webakruti is very experience in web development languages.I am very happy to be the part of webakruti.Thanks webakruti….

Swapnil Maske
Placed @ Webakruti - Alumni TDC 1.1
"Webakruti is like flowers 🌸, It bring colour our knowledge,hidden skill as well confidence".
Webakruti is the platform where I had learn Web Development, personality development, communication skills n other activities. It was great experience with Webakruti team.The greatest experience I ever had with any Institute. Webakruti is really best gift 🎁 for us…..Thank u Webakruti!!

Nikita Khurpade
Student @ Webakruti Alumni TDC 1.1
I am very much oliged to be a part of Webakruti family. Being a student it's a primary need to know about what he/she is actually capable of or good at. Webakruti provide such a great platform to enhance our capabilities not only in technical knowledge but also with other activities being carried out in TDC session. Those were the best mesmerizing moments given by Webakruti family to me. And at last a learning of life which I got from this family is attitude of surviving. They said "write something worth reading or else do something great worth writing".

Naveen Shende
Placed @ Amazon - Alumni TDC 1.1
Webakruti is a platform where i had not only learn but can also able apply what i have learn throughout. Here not only queries are being solved but at a same time you can experience practical scenario. TDC-1.1 was my awesome experience looking forward for many other new introduction. Webakruti has made remarkable success and all I have learnt will truly be use full lifetime. Different activities been undertaken taught many new things which will help me in coming time. Webakruti team is doing a great job!!

Tanushree Gawande
Placed @ Amazon - Alumni TDC 1.1
A place where we can learn languages with fun.They helped me to learn the language very well for development of websites.Well knowledged & friendly teacher staff, Photoshop session,communication skills, are the best part of Webakruti.Also, I can not forget the fun we had at the "Masti ki Pathshala".
Recently, got the chance to work on the project with Webakruti and it will be very good experience for my future !I am very happy to be part of Webakruti family.Thank You Webakruti for the great experience!

Shubham Bodhane
Student @ Webakruti TDC 1.1
Webakruti is not the place where they provide technical knowledge to their students but also they improve the general awareness to their students. All members of Webakruti are great & behave vary friendly.I got so many thing to know from them. TDC 1.1 session was great .I am very happy with my decision to join TDC 1.1 at webakruti…. I have improved technical knowledge by joining Webakruti…
I am proud to be Webakrutian…. & happy to say yes i am Webakrutian….!!!!

Nikita Patankar
Placed @ Webakruti - Alumni TDC 1.1
It feels great to be a part of Webakruti. All I can say is a big thank you to Webakruti team. I have great experience of learning which has helped me to enhance my skills. I joined the techno meditation camp in that Starting from web development to CRT training where trainer brushed us about each and every pin point about it. There were many events like 'Masti ki pathshala' which helped us to know about Webakruti family oh they are lovely people. I also got a chance to get a project experience which provided me with necessary knowledge which will be helpful for me in nearby future. Each and every trainer were cooperative,supportive and it was fun working with them. On a whole it is a great place where you can learn a progress to your success.

Webakruti helped me to achieve my dreams.Webkruti team concentrates on concepts as well as knowledge.Thank you so much Ram Sir and Deepak sir for your efforts it helped me a lot. Thank you.

Harsha Labhe Gokhale
HTML Developer, MRR Soft